Sat 28 Nov 2015
It has been cold and snowy here at this old house for the last few days, a great time to tuck inside, eat Thanksgiving leftovers and read. This afternoon, I finished the last in the Tony Hillerman series of novels about Lt. Joe Leaphorn and Jim Chee, Navajo Tribal policemen. I began the series last fall after our trip to the Grand Canyon. I came home wanting to learn more about the Navajo nation. With Tony Hillerman's acclaimed ability to interpret Native American society and culture accurately as well as writing a very hard-to-put-down kind of mystery story, I have enjoyed learning more about the Navajos, especially. Many of the areas that Hillerman set the stories in are places I have been to so, while reading, I could picture the setting the scene was taking place in. I also liked the ongoing story of Leaphorn's and Chee's personal lives that were woven into each novel in succession. Coming to the end of the series was bittersweet; I will miss reading them but now I can work my way down through the rest of my book pile that has been neglected for over a year.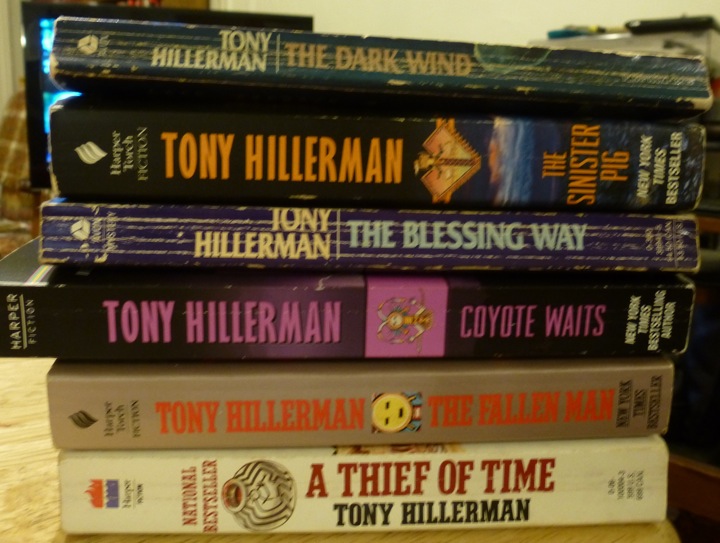 In the evenings, we have been reading aloud to each other from "Appetite for America: How Visionary Businessman Fred Harvey Built a Railroad Hospitality Empire That Civilized the Wild West" by Stephen Fried. Fred Harvey restaurants and hotels are still visible in many locations. Some, like La Fonda in Santa Fe, La Posada in Winslow, Arizona, and El Tovar in the Grand Canyon, are quite iconic. Others have faded away or been re-purposed over the years as airline travel replaced train travel for most people.
The Fred Harvey company brought Native American art and culture to the forefront of America's consciousness through their showcasing it in ways that had never been done before. Reading about Fred Harvey's "Indians," Native Americans the company employed to live and/or work at various establishments the company owned helps me understand some of the more modern history of the Navajo that Tony Hillerman writes about. For example, I never knew that Fred Harvey was the one who began the wide-spread commercial trade in Indian jewelry. The true Native jewelry used big pieces of stone in heavy pieces of silver. Much of what is sold is pawn is authentic the Native American style. The pieces most of us buy and wear is really "Indian lite," smaller stones in lighter pieces of silver or even gold. The Fred Harvey Company commissioned Native Americans to make that for tourists as back then especially, tourists did not want the bigger, heavier pieces. Tony Hillerman refers to that trend in making "tourist Indian jewelry" in one of his novels.
For me, the best fiction is rooted in history. While Joe Leaphorn and Jim Chee are fictional characters, they seemed very real to me while reading their latest adventure policing vast territories of Reservation land with few inhabitants. I will also look at the cases of pawn very differently from now on. And the next time I encounter a Fred Harvey hotel or restaurant, I will look at it with new insights into its history.
Advent begins tomorrow. We begin the Church Year anew, remembering how our lives interweave with the larger story of God's Kingdom. My life is so small in the vast universe of God's work. Yet, as in Navajo teaching, every cause has its effect. What I do in my tiny sphere of influence ripples out into a larger circle that moves in ways I may never see or understand. Jesus himself lived a small life in a tiny backwater country a long time ago but his life changed the course of human history.
Mine will certainly not have that kind of power but in some mysterious way, decisions I make, students I teach, music I play for worship, meals I cook, the children I have raised, the friends I interact with–all somehow impact, for good or for ill, an expanding Story line, the ending of which won't be revealed until time is rolled up like a scroll.
The beginning lessons of Advent are about that glorious finish to the greatest Story every told. On the First Sunday of Advent, we continue to reflect on Jesus's Second Coming in glory in much the same way we did last week on Christ the King Sunday. It is a good reminder in these dark days of growing winter here in the Northern Hemisphere that we are in a story to which we add another page each day. When we are frightened by "wars and rumors of war," that the story we are in will wrap up well at the end. We all need to hear the angels say again, "Be Not Afraid," "Do Not Fear." God always bats last.
Just like a good Tony Hillerman novel, the good guys will win in the end.